Well, that was quick. Just three weeks after the successful version 5.0 release, version 5.1 is ready to roll! That's what happens when you host games and discover all sorts of improvement areas.
A way to enforce time limits
In Wheel of Fortune, you can't spend too long guessing letters and making decisions. Normally, I'd use my fingers as a countdown for players, but that wasn't feasible over video call. Surely there has to be a better way to track time.
Introducing the shot clock, an optional timer that helps enforce time limits on player decisions.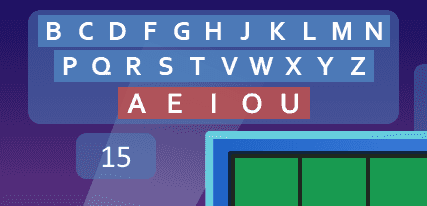 Clicking the shot clock will start a countdown. Clicking it again will reset the clock. You can choose the time limit in Settings, ranging from 1 to 30 seconds.
The shot clock does not affect how the game runs, which means you the host retain control of the rules. For instance, you can let a player slide by a few seconds and/or exempt certain players from the clock!
Improved toss-up handling
Version 5.0 enabled toss-up support, albeit hastily. Version 5.1 adds additional measures to smoothen the toss-up experience.
You can now start a toss-up only if no letters have been guessed in the puzzle.
If you start a toss-up with nothing in the Value Panel, you can input the toss-up value at stake on the spot.
During a toss-up, the Letter Selector hides from view.
Shift up/down
In the puzzles editor, you can now shift puzzles up and down. This is useful if say you wanted to append an adjective to a puzzle but already filled the top puzzle row.
This feature has been backported to version 4.1.4 for PowerPoint 2007 users.
---
Thanks for checking out Wheel of Fortune for PowerPoint version 5.1! I look forward to your feedback on the new features.